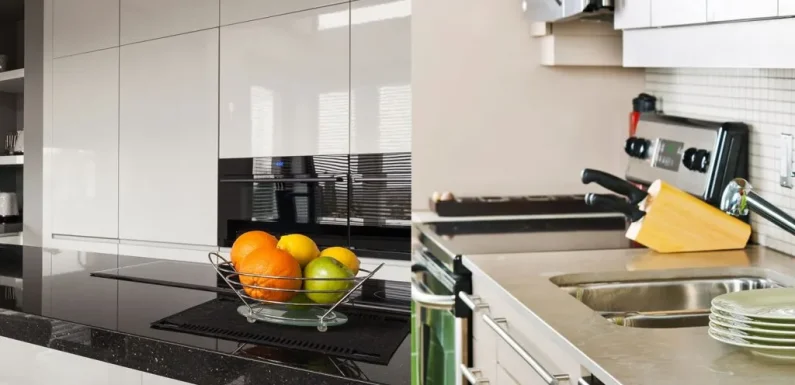 It might be overwhelming for you to think about combining and mixing two countertop styles in your kitchen space at first. But once you think through it, things will get clearer. This is normally considered as a cut-and-dried process, which can beautifully balance your kitchen's look and décor. This approach also lets you maintain the color coordination and create a unique design. 
So, here are some strategies to get the most out of this look:
Pay attention to patterns
You need to take note of the patterns when you are shopping for more than one countertop style. You would never want the styles and patterns to clash. If both the options have significant movements and patterns, pairing them can distract the eyes. Further, if you are too much involved in shopping for the patterns, go for a countertop with minimal patterns or solid colors. This will ensure that both the styles are in sync with each other, creating a perfect balance.
Coordinate with the accent colors
Accents colors can come from anything. From art items, linens, plumbing fixtures, furniture or even your cabinet hardware. If there is any shade that you are pretty fond of, you can get a countertop design which either matches it or incorporates that tone in its pattern. But make sure it does not look out of place if you are planning to alter the accent colors of your kitchen. 
Balance dark with light
This is the age-old principle of home décor for creating that perfect balance. The same rule can be applied while choosing the countertops as well. If you are picking lighter shades for décor, you will also need darker options to create a contrast. With this approach, you can even incorporate touches of pastels, neutrals and primary colors in your kitchen.
Create an accent piece on the island
Whether they are bold color tones or unusual patterns, many designs are considered to be natural showstoppers. And, to create that accent piece in your home, there is nothing better than your kitchen space. You can easily wrap up your island in some dramatic patterns or veins, creating a beautiful focal point, which is going to stand out of the rest.
In this regard, Cuisines Rosemère kitchen counters come in beautiful varieties, which are carefully crafted to amp up your kitchen style and its elegance. Check them out today!